Friday Favourites: Bar Cart Obsession + Inspiration!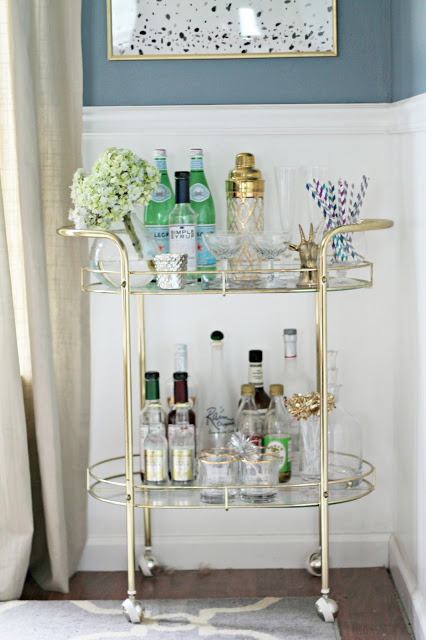 Hi friends, happy Friday!
Today marks two months in my very first place!  Wyatt and I moved in on August 23rd, adopted our little stell' on September 27th, and got a dinning room table on October 18th. Its been a wild ride guys. We dont have to eat supper on T.V. tables anymore!
I've been slowly chipping away at collecting the necessary items to make this place functional and homey. So far I've made pillows, got some art to hang on the wall (thanks value village!), and upholstered a coffee table. While this may look like progress, we're still don't have enough lamps and we still dont have a bar cart.
Yes, I'm listing a bar cart as an essential. Mostly because I want one, but also because they're pretty classy. 
My current liquor storage situation leaves little to be desired. We have bottles stacked on top of the fridge, but this really isn't working for me because, 1) Its not even a little cute. Its actually really ugly. I'm trying to make this place look the least college-apartmenty as possible. This isnt helping. 2) Wyatt and I are both on the shorter side, reaching up is annoying. 3) After my third tequila drink, reaching up there to make another gets downright dangerous. I'm too clumsy.
Luckily, we have the perfect space in our living room for a bar cart. Beside the balcony, a bar cart would be the perfect way to fill that space. For a while I was thinking floating shelves for my scrapbooks, but I'm definitely learning towards a bar of some sort.
The only issue with this plan is that bar carts are expensive, and I'm willing to spend around 0$ on this project. The Decorista has an awesome post outlining bar carts under 500$, but that's just completely out of league. If I had 500$ for a bar cart, I probably wouldn't be taking pictures for my blog on my boyfriends iPhone. Its hard trying to look like a sophisticated adult on a ramen budget. So please expect a DIY coming your way soon.
Until then, here are some bar carts I'm loving!
While the cart itself is a little too rustic for my taste, I LOVE the decanters and glassware they have used. I think the major factor standing in the way of making my liquor collection look cool is tacky bottles. I'm already on the hunt for the perfect bottles to fill up!
I love this cart because it gives me such a old-school California vibe. I think this kind of look would match the palm pictures perfectly! Also, this has been accessorized perfectly!
This beautiful cart is actually a DIY! I'm totally swooning over the black and gold combination, and I think this is something I could try and recreate. Remember those T.V. tables I said we were no longer using... ;)
So the common themes seem to be, gold, nice glass, and DIY worthy. Hopefully I can come up with something cool for you guys!
What do you guys think of bar carts? Overrated? Too cute? Let me know!
Have a good weekend!
Rachel